Looking for some creative ideas ways to install a really original kitchen cabinets? We have so many options these days to transform your run of the mill pantry, between storage enhancements and unique designs.
Here are some fresh takes on the kitchen cabinets that are unlike what you remember from Grandma's kitchen.
Hybrid Open and Closed Shelving
This modern take on kitchen shelves really adds dimension to the cabinets, breaking up that solid look of your cabinets. By pairing open shelving with traditional cabinet doors, you are able to choose what you want to show and what you don't. For instance, those wine glasses and cook books have their own little stage, but your kids' sippy cups can stay out of sight. This look is especially striking when the open shelving is finished in a contrasting color to the rest of the cabinet.
We've all hit our heads on sharp corners before - ouch! Special rising flap cabinet doors help prevent this by giving extra clearance. Traditional hinged doors can prove inconvenient at times, crashing into one another when opened. Seen here on a cabinet which is mounted high up, this design by Nobilia features a frosted panel on the front. Just make sure the flap is still at a reachable height since the door rises to open.
A pantry hutch is basically a cabinet-worktop hybrid. Here, a special cutout is placed at counter height with a worktop surface, integrated with tall cabinets. This not only looks super neat and organized, but keeps your kitchen safe too. The sliding door over top keeps appliances tucked away when needed. This design from Team 7 is like a work station for baking, breakfast shake ingredients, or even charging smart devices.
Of course supply drawers are nothing new, but this concept might surprise you - drawers inside the pantry. These inner pullouts from Nobilia are particularly unique in their placement, with drawers running the whole height of the tall pantry. This a clever take on cabinet shelves, since it makes reaching items at the back simple and convenient. The overall effect is very clean with the cabinet door closed since all you see is a continuous tall door.
Speaking of organization, this layout is really great for keeping all your supplies in one place where you need them. Instead of a hall or entryway cleaning closet, this pantry lets you integrate the supply cabinet with your other kitchen cabinets. Inside you will find special hooks for the vacuum cleaner, as well as racks for cleaning solutions, dish cloths, brushes and buckets. Since our kitchen is usually where the mess happens, it makes sense to keep your cleaning supplies here. It will likely save space in your home overall too - make that old supply cabinet into a coat closet instead!
Window-Style Glass Front Cabinets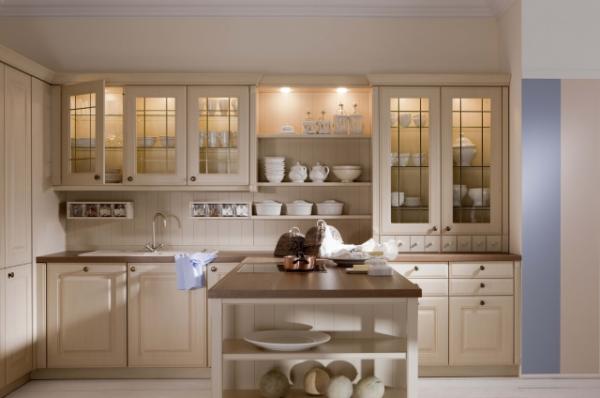 Modern Kitchen Cabinets
Now this is one you and Grandma could probably agree on! Give your kitchen a real nostalgic charm with a window-style kitchen cabinet front. These framed glass cabinet fronts from Leicht create an open feel in your kitchen space, making them less constricted and more elegant than a contained pantry. Warm cabinet lighting really turns on the charm here, creating a spotlight for your favorite dishes.