Transitional kitchens are essentially the common ground between modern and traditional designs.
Ultimately though, transitional kitchens are extremely flexible- and are a great way to create a unique style that takes your favorite elements from modern and traditional kitchens. Here are a few hallmarks of transitional kitchens:
#1: Modular Custom Design
Transitional kitchens tend to use a modular concept - a feature of modern kitchens - to give freedom in how to arrange your cabinets. Traditional cabinets are often limited in this aspect, with preset frameworks that offer little flexibility.
But transitional kitchens let you change door style to suit your kitchen taste, which could be modern slab doors or traditional shaker or framed fronts. The cabinet face is ultimately what reflects the kitchen style, so it could be as modern or traditional as you like.

#2: Clean Lines


Where a traditional kitchen is very ornate, a transitional kitchen tends to lack the extra fussiness. Cabinets are often finished in a simple style, with a subtle panel on the front as opposed to a more layered, decorated door.
The cabinets are usually frameless too, meaning the doors are laid fully over the front. This grants better access to the inside (hence the commonly used term "full-access cabinetry"). This applies clean lines for the kitchen tiles as well, which tend to be aligned grid-style as opposed to staggered.
By combining natural and man-made materials, transitional kitchens really create a harmonious balance. They tend to feature surfaces like granite, soapstone, or even solid wood for counter areas and cabinets. This adds texture to the crisp lines that make up the kitchen design, which really stand out by adding a playful element and keep the appearance from looking too rigid.
#4: Simple Embellishments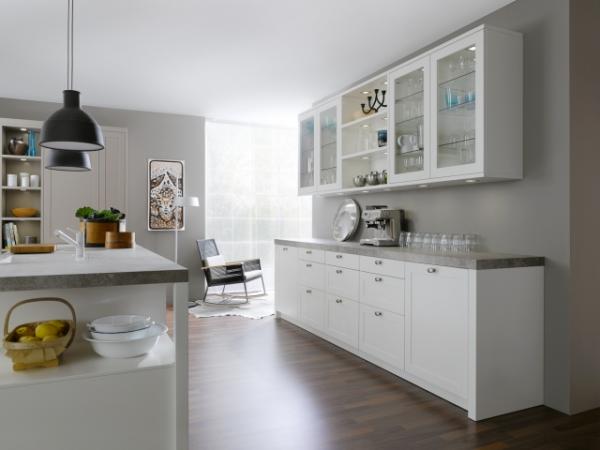 Transitional Kitchens
Accents in a transitional kitchen are usually stripped down to basics. Handles come in a variety of styles, but tend to favor simple knobs and bar style grips.
But one thing that separates transitional kitchens from modern designs is that they don't shy away from creative details. This includes moldings, millwork, windowpanes and handles in general - since modern cabinets are often handleless altogether. These homey touches don't overwhelm the design, but serve to soften it and add a little fun to the space.

#5: Neutral Color Palette
Transitional kitchens tend to favor earth tones, with an occasional splash of color here and there. These neutral browns, creams, grays, and white and black shades are great for achieving a balance between contrasting modern and traditional styles.
This is where the element of texture comes in. To add some character to these calming tones, we often see finishes like exposed brick, rustic wood grain, or natural stone look for accent areas. These creates a sense of depth on areas like the backsplash, counter top and toe kick.